Ready to start an eyelash extension business?
Fantastic!
This post contains seven actionable steps for you.
Let's get started!
Think About The Real Why To Do Eyelash Extension Business
You may think the lash business is a glam business with high income. But actually, there are many sweat and tears behind. You may need to increase your knowledge and perfect your skills in many late nights and early morning.
Like LivBay, they are successful now because they are so patient and put in tons of hard work from 2011.
So first and foremost, you need to ask yourself, do you have a real passion for perfect lashes of people?
If the answer is not, then it is probably not the right business for you. This business needs a strong mind and natural love. Or it does not make sense to waste your time.
Doing Local Research
Okay, now your great passion is confirmed. Here is the next step – do the local research.
Entry requirements
Different places have different rules. For example, some states require an esthetician license to do eyelash extension services.
You'd better check the local requirements with the licensing board or confirm the information from their website. Do not be shy to reach out if needed.
Competitors research
Take 30 minutes to make a list of your local salons which are doing the lash service. You can get their information from Yelp.com or Google Maps.
Then you should make 1-2 hours to go out for a field inspection, such as specific location, salon size, decoration style, service options, lengths and types of lashes used, charge, etc.
If possible, prepare a list of questions and interview them. Or you can pay the consulting fee for lash artists. It is the easiest way to get a boost in your research process.
Learn How To Do Lash Extensions
After local research, you have a sense of the startup costs, profits, and ROI already. Now it's time to get the lashing skills.
Before picking up a course to learn, do research. Such as Googling the "new york lash course," you should get some great courses like one from Xtreme Lashes. Then inquiry them to compare the solution to see which one is fit for you.
There are some 2-day or 3-day crash courses on the market. But you'd better follow on with ongoing support.
As is true with most things, you will get better at it with time and practice.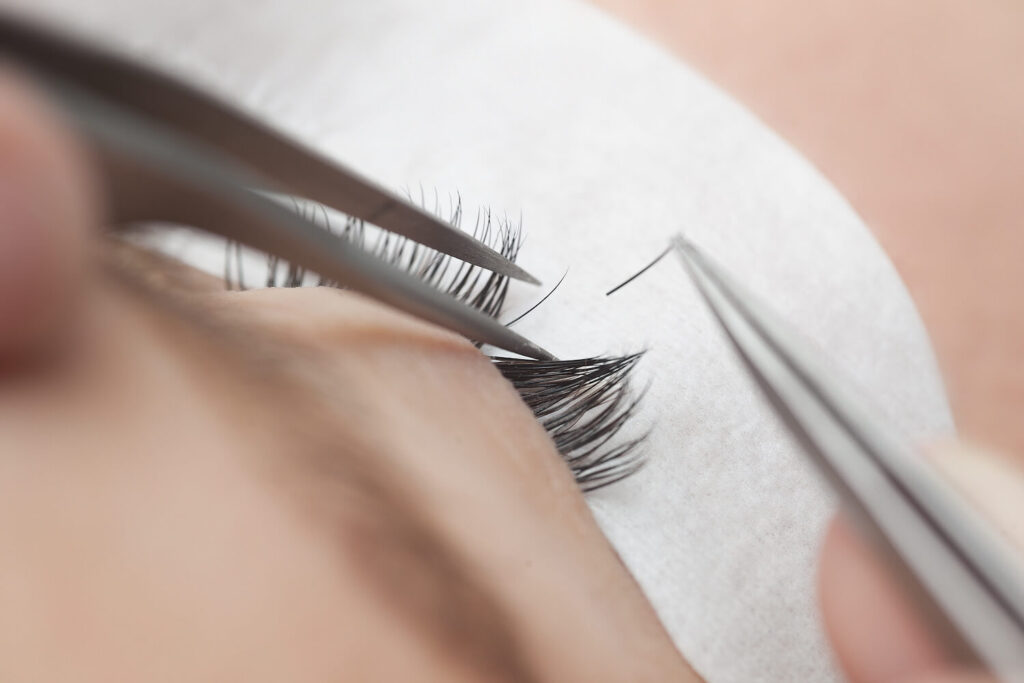 Lash Studio Setup
Okay, you learned the skill and did 100 times lashing practices. You can decide on a place to start your journey now.
There are two options here: home-based or salon-based.
If your budget is tight, you can start from home. But you'd better create a professional space, like purchasing the proper essential lash equipment (lash extension table, ring light & hydraulic lash stool) and doing decoration with flowers and paintings.
It does not mean you need significant investment. You can buy the equipment from 2nd hand shops.
When you get a stable income, you can consider renting a place. But please play a long-run game. Generally, it breaks even in the 3rd year, but it will pay off.
Before setting up your salon, you can walk around the nearby salons. Then you can do better work to go.
Source Quality Lashes, Glue & Patch
There are many different types of lashes suppliers on the market. Therefore, you must be careful when you like to buy some stuff.
If you do not like to take risks in people's eyes, you'd better away from the cheap stuff. You get what you paid. So source the best products for your babies, like the ones from Focus Lashes.
And here are three tips to help you stay away from scammers.
– Check the website. Many Youtube videos said you could find the lash vendors on Instagram. But Instagram is not everything. People can do repost or copy others' posts. Also, it can do fake followers. So you'd better check their website as well. Scammers do not have the patience to do a professional website because it takes time.
– Do the sample order first. Always do the trial order at the beginning so you can know how the supplier will be.
– Pay by PayPal. You will get purchase protection if you make the payment by PayPal. When you get the fraud, you can report to PayPal and get the money back.
Create Own Online Empire
Although lash business is an offline business, the world goes digital. So it would be best if you create your online empire as below.
Name your brand
You have a list of local salons on hand after local research. Get inspiration from it. Then check if the domain is available from Namesilo. If so, get it. Then you can design your logo from Canva. Or you can hire someone on Fiverr to go.
Create a menu
Think about what kinds of service you can offer. In the beginning, you'd better do a menu with a fair price. But I suggest you charge over $100 for a complete set of lashes.
Make a website
You can use 3rd party platform like Square as a landing page. But it will be more professional if you can have your website. In addition, it can help to differentiate your brand from others.
Just learn to do a website by Shopify or Webflow from Youtube. Or you can hire someone on Upwork to achieve your ideas.
By the way, get a custom business email for connection if possible. It will look official.
Set up the booking system
Do not depend on per and paper as a booking system. Instead, you can get one like Vagaro to handle your schedule.
Vagaro's pricing is according to how many employees there are. Therefore, it is perfect for the beginner or small lash salon.
Set up multiply accounts (Venmo, Zelle)
Different clients have different payment habits. So try your best to accept different kinds of payment methods. Then you can cover a better size of audiences.
Do The Marketing
Now all things are ready. Next, you need clients to start the journey.
1st batch of clients
The best 1st batch of clients is your family and friends. They trust you and help to build up your confidence.
Social media
Do not forget to do your family or friends' cases for your social proof, especially on Instagram.
Instagram is the best social media for lash business now. You can do 2-3 posts per day with 30 hashtags each. Then you will get a good exposure gradually, and people will know you.
Local SEO
Some people like to search "eyelash extensions near me" or "lash salon near me" on Google. If you want to show up, you can create a Google My Business listing.
However, online reviews are vital as well. When clients love your service, let them write a review. It may increase sales by 270%.
Referral marketing
When you have some clients, please encourage them to introduce you to their friends and family. People trust their friends and family. So you can make a deal quickly.
You can start a referral program with a discounted service fee or gifts. People will have more incentives if they get the reward.
Final Words
Alright, it is a long post about starting a lash extension business. Thanks for reading to the end! Jumping into the lash business is exciting, but you need to spare your efforts. If you get stuck, do not get discouraged. Just keep grinding, and you will see the positive feedback.
We are sorry that this post was not useful for you!
Let us improve this post!
Tell us how we can improve this post?