Eyelash extensions are a great way to get fuller, longer, and thicker eyelashes. It's a great alternative to mascara and it's also a good way to get your lashes if you're struggling with eyelash loss or thinning.
There are many brands out there that offer eyelash extensions and it can be hard to find the best ones. That is why we did some research and found the top 5 eyelash extensions wholesalers in Singapore.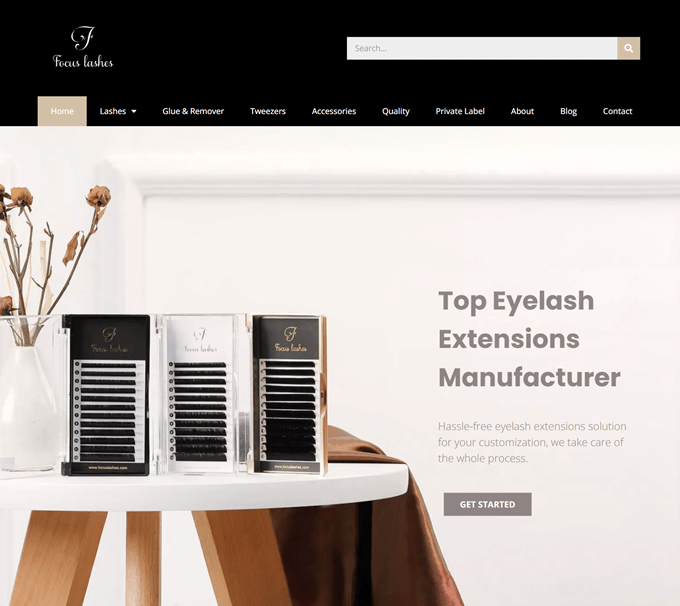 Focus Lashes is a wholesale eyelash extension company. They're most famous for the high-quality eyelash extensions, which they've manufactured for over 10 years in Qingdao, China. They're well-known for their quality management processes and focus on the overall quality of the products they produce. They ship internationally with help of DHL or FedEx.
Focus Lashes provides private labeling w/ your logo as part of their services. Their specific programs ensure that you get the wholesale eyelashes you want at a price that won't break the bank, while still providing a quality product.
People often realize the value of a product only after they have been recommended by an influencer or from a product certification. Focus Lashes has qualified, tested, and reviewed all its products and offers packing boxes as well.
Designing your own package boxes for promotional material can be a costly and time-consuming process. That's why Focus Lashes' custom packaging solution can help save you that extra time and money. You can customize the color, size, and design to suit the product and then print your brand logo on the box as well!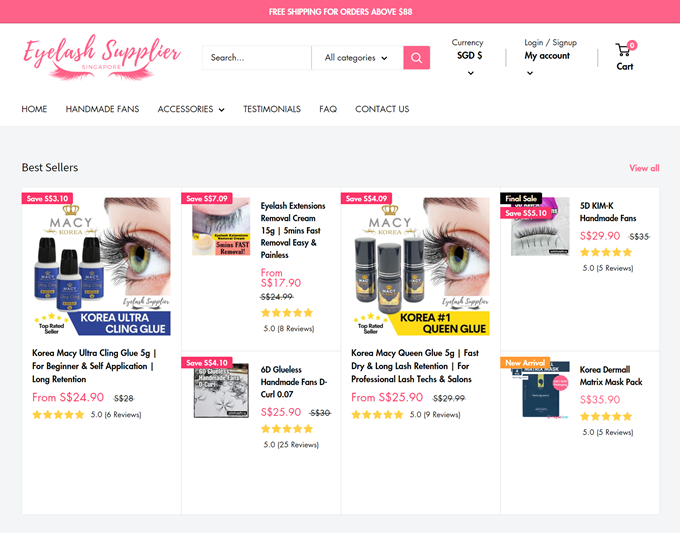 Eyelash Supplier Singapore is a local Singapore eyelash extension wholesale company and primarily ship within Singapore and to Malaysia. They aim to bring success to Lash Artists & Beauticians by supplying top-quality eyelash extensions products direct from the factory.
They import products from Japan, Korea, Vietnam, and Thailand. Their prices are very competitive.
Beauty Garage is the leading provider of professional beauty supplies in Japan for over 18 years. Beauty Garage Singapore – a subsidiary company of Beauty Garage, was created to cater to the growing customer base in Singapore.
The company has been making improvements each year. Now they want to create new value and pride themselves as the catalyst of change in the world of beauty. They try their best to offer an outstanding shopping experience to build trust with customers better.
Foula Store has expanded distribution networks on a global scale including the United States, Canada, Mexico, Brazil, Japan, China, Hong Kong, and Taiwan. Foula's products and training have been used and loved by more than 120,000 lash artists in 18 countries around the world because of its wide variety and number of high-quality products. If you're looking for a higher quality adhesive product, we recommend looking at their products made from ingredients sourced from Japan. They ship around 20k bottles and 100k lash trays monthly.
Foula store has also developed a revolutionary eyelash extension course with the original curriculum. They teach lash artists everything they need to know – from advanced skills to choosing the right product, and the basics of products relating to eyelash extensions. The goal of this lash education is to help artists have safe and efficient service so they can provide the best work to their clients.
Lash Magic is a Singaporean lash & brow wholesaler that helps you succeed in the field of eyelash extension and eyebrow embroidery. Their products are environmentally friendly, easy to use, and produce excellent results every time!
Get certified with the CarraTouch™ Eyelash technique, which is designed for maximum comfort.
They also happen to be the one and only Official Distributor for BrowXenna®, the leading brow henna brand. You can become a certified Brow Henna artist by taking their tutelage.
Conclusion
Eyelash extensions are a type of artificial eyelashes applied to natural eyelashes to make them longer and thicker. They are attached externally either by adhering to the lash with a synthetic adhesive into the natural lashes.
Forms of eyelash extensions include individual, mink, silk, synthetic mink, and silk-mesh. The extensions can go from light volume to dramatic volume.
It's important to find a reliable lash extension wholesaler if you like to start your own lash business in Singapore. Hope this top 5 list can be helpful.
很抱歉,这篇文章对您没有用!
让我们改善这篇文章!